Some call them a chaise, others a chaise lounge. However, our French counterparts will argue that it is, in fact, a chaise longue - french accent 100% necessary. Whatever you want to call it, we're here to get you up to speed on everything you need to know about this luxurious sofa addition.
If you've been eyeing up our popular chaise, wondering what it is, how to use it and how you can integrate it with our other modular sofas, then you've found yourself in exactly the right place.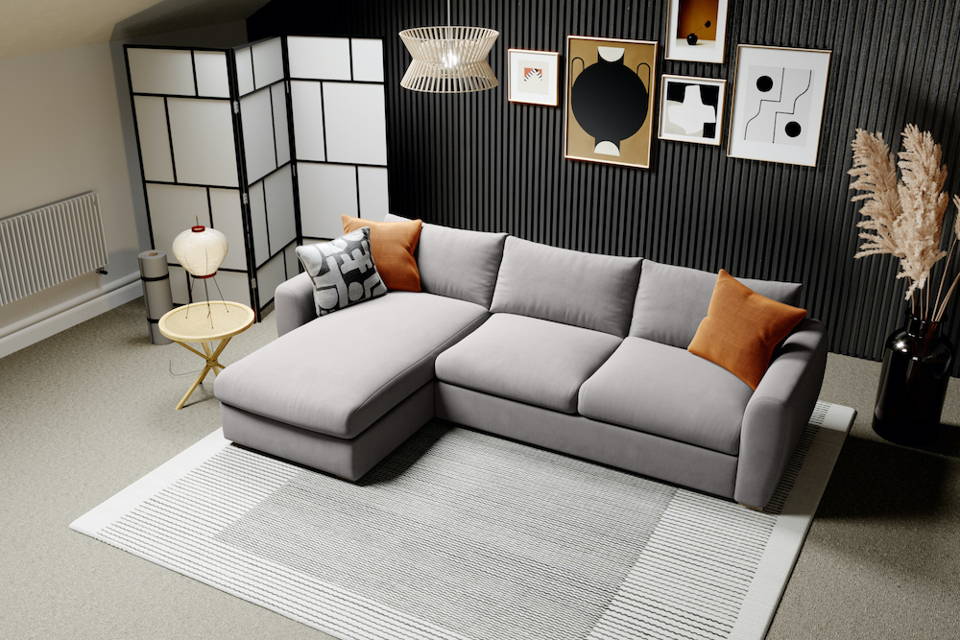 So, What is a Chaise Lounge?
Said to have originated from France in the late 1700s (thanks, Google), a Chaise Longue is a fully upholstered chair or sofa that's long enough to support your legs. Think of it as a detached version of the end of a corner sofa!
The idea of a chaise longue is that it can be taken out of the living room and placed in whichever spot you love the most (but leaving it in your living room is totally fine as well!). Fancy a reading chair by your favourite window? Go for it! How about a love seat situated at the end of your bed? Sure thing. Whether you use it for cuddling up with a book, binge-watching Netflix or just taking a moment for a well-needed breather, our chaise is ready and waiting (and looking great, too).
What sofa styles are possible with the modular unit?
There are so many possible sofa styles and shapes you could configure with the chaise lounge unit. All of our sofas are fully modular, but The Cloud Sundae and The Small Biggie collections are the most premium and flexible of all. This means that you can purchase a chaise - from either of the two collections - and slot it onto your already-existing sofas to create the ultimate corner sofa. Now, doesn't that sound like a party?
Not sure how to slot sofas together? Find out more here.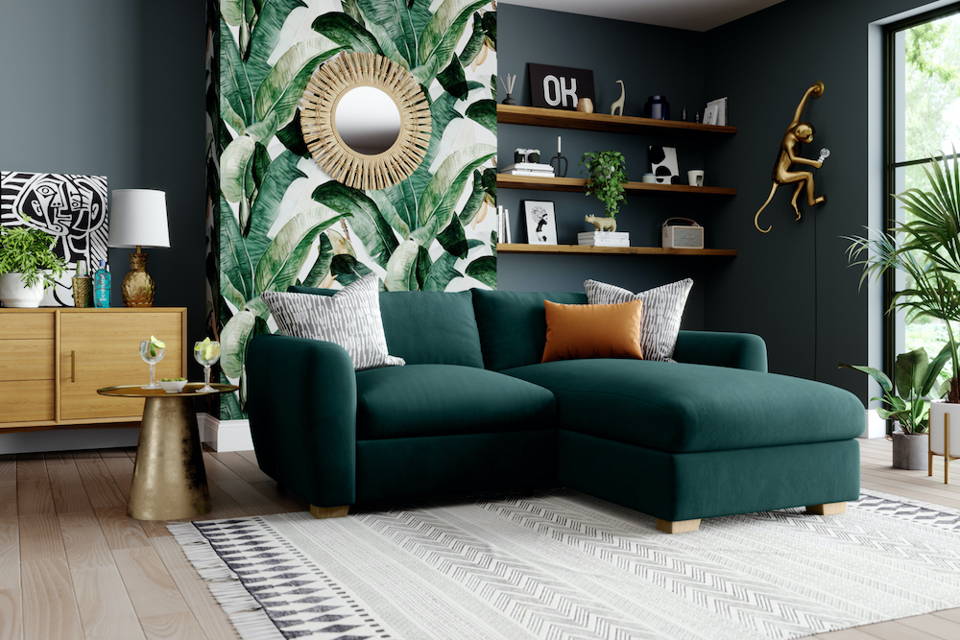 You could have it as a singular unit, a chaise lounge chair to lay back on. Or if you're feeling super adventurous, why not slot two chaises together to create a dreamy chaise daybed? That's basically a pod of unmatched cosiness perfect for any living room or even an at-home cinema room. Count us in! Don't forget that you can purchase our chaise with or without arms - it's totally up to you.
Or you may wish to have a chaise lounge at the end of a sofa to make a gorgeous chaise corner sofa. If this is something you're interested in doing, it's worth noting that you can add your chaise to either side, making a left-hand corner sofa, a right-hand corner sofa or even both for the ultimate U-shaped lounger.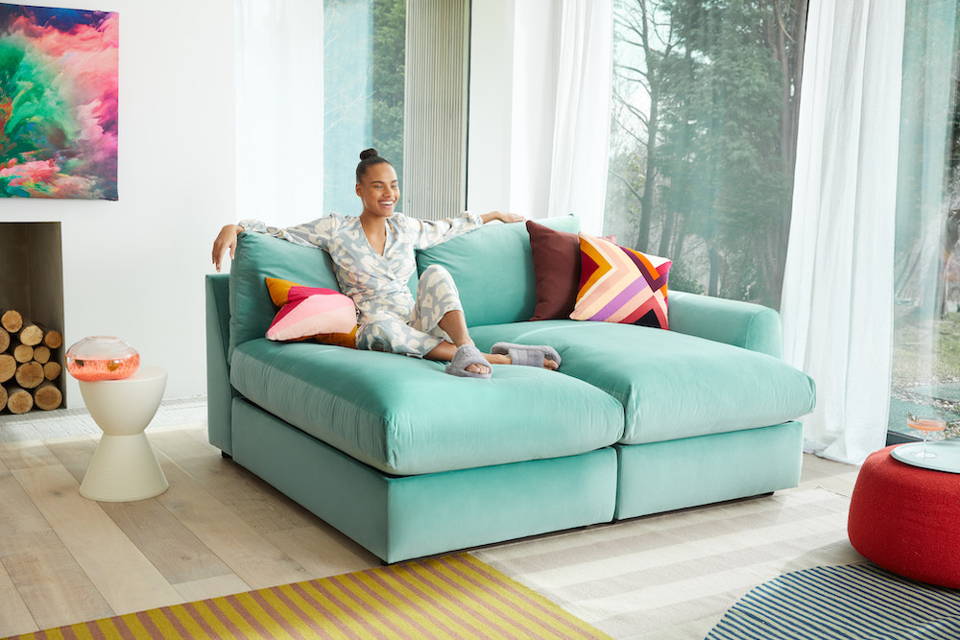 Another idea would be to make a chaise sofa bed. All you need to do is get The Cloud Sundae Sofa Bed or The Small Biggie Sofa Bed and slot the chaise on the end - it's the corner sofa bed you (and your guests) have always dreamed about.
If you're after any extra advice on chaise sofa configurations, don't hesitate to drop our Snug sofa experts a message. Just click here!
How long is the chaise lounge?
There's nothing worse than ordering furniture you love, only to find on delivery that it's a small chaise sofa that simply won't fit in the desired space. That's why we've made our chaise sofa extra sumptuous for endless days of snuggling. The Snug Cloud Sundae Chaise is roughly 158.5cm long and 140cm wide, The Small Biggie is roughly 158.5cm long and 116cm wide. You can find all of the measurements on the relevant product page!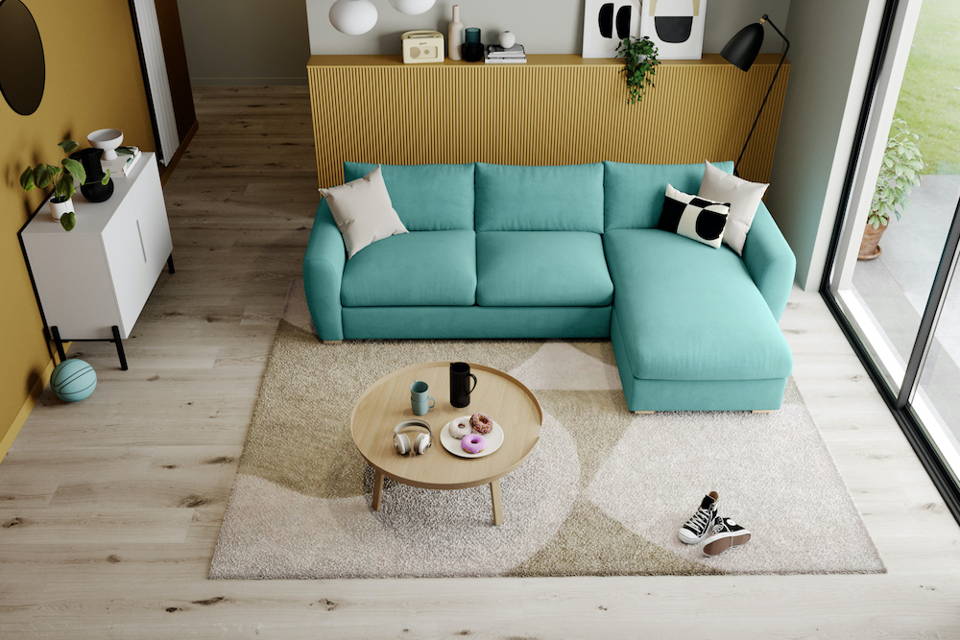 How to assemble the sofa in a box
Just like our other sofas, the chaise lounge is delivered in a box. Arriving at your door in convenient 100% recyclable boxes holding the individual parts, you can carry your new chaise and sofa parts to whichever room you want without any hassle or heavy lifting. There's no narrow staircase or awkward hallway that we can't get past!
Once you pull your brand new chaise out of the box, you can assemble it in no time at all without the use of tools. It really is as simple as slotting the pieces and arms (if you bought them) together. Don't worry - there are straightforward instructions in the box (but we're sure you'll find that you won't even need them).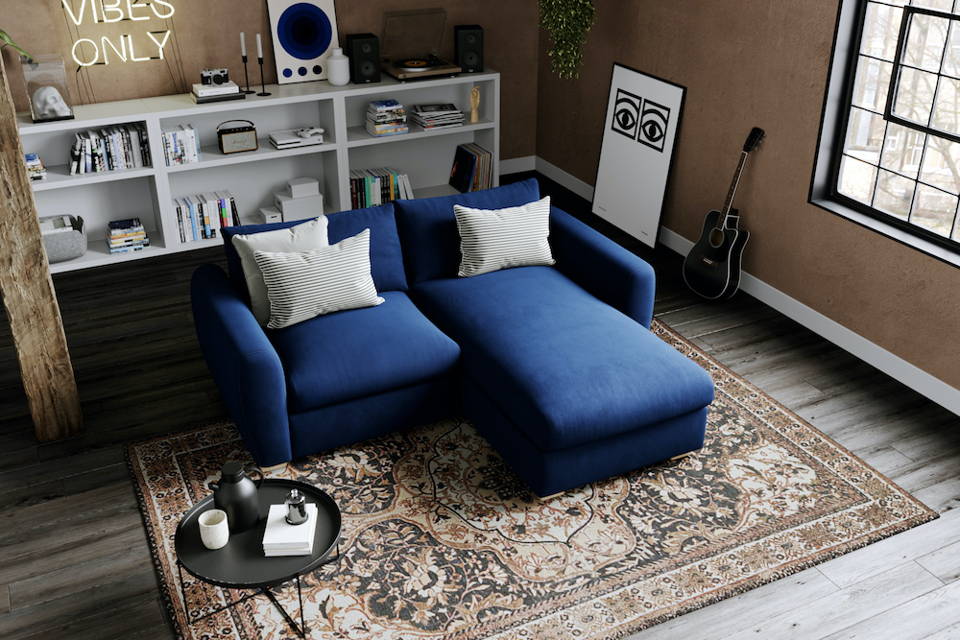 What are the best chaise features?
Our chaise is unlike any other. Why? Because not only is it fully modular, but we've also designed them with optional storage. Yes - you heard. Optional. Storage.
You've finally got that extra hiding place for all your living room add-ons. Blankets? Cushions? Spare bedding? Snacks? You asked, we listened. This is the modern chaise lounge sofa that exceeds all expectations. Not sure what to hide in your storage sofa? Read our guide here.
As if that's not enough to hit checkout right away, our chaise longue is UK made with vegan-friendly and spill-resistant soft-touch velvet fabrics that wrap cover the cushions for a seam-free feeling. Built with a sturdy wooden frame and deep, billowy seats, this is the closest you'll ever get to sitting on a cloud.