Katherine Ryan is a comedic genius. The 38 year old Canadian is hilarious and extremely honest about all things motherhood, adulthood and woman hood. Best known for her witty and provocative jokes, you may have seen her in shows such as Netflix's Katherine Ryan: In Trouble or Your Face or Mine as a co-host with Jimmy Carr. Either way, at some point in your life, she's probably had you in stitches. So, we thought, who better to partner up with?

In case you missed it, Katherine recently hosted our Instagram Live Event with our biggest giveaway ever. You can watch what went down here.
For our exclusive interview with Katherine Ryan, we've sat down in her kitchen to chat about all things interior design, reality TV, and comedy. Her husband, Bobby K, is putting the kids to bed whilst we have a chinwag.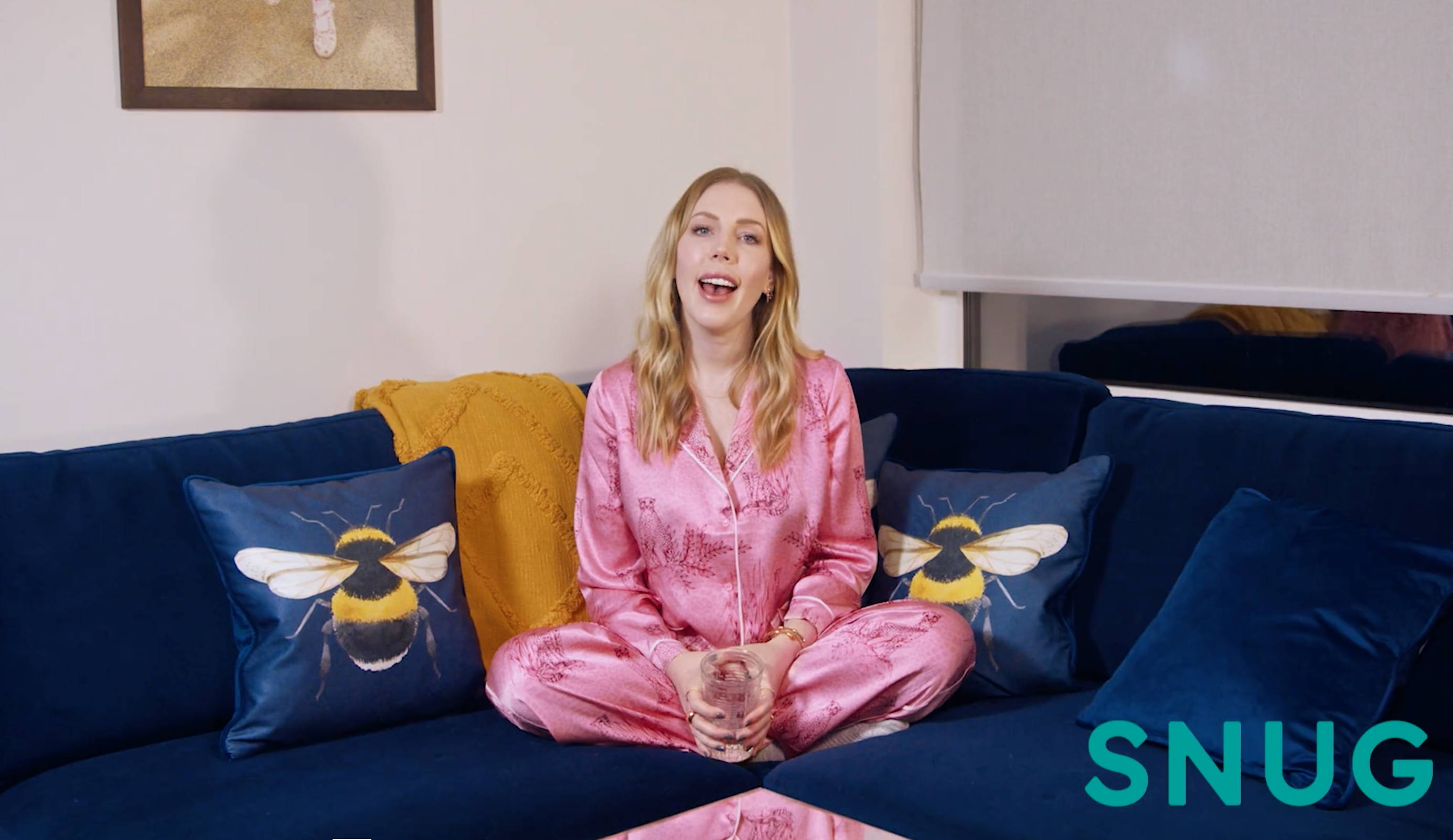 Someone recently described your home as a 'Californian tranquility in the London suburbs' - we want in! What are your top tips for creating a relaxing vibe in your home?
"I would say having really inviting fabrics and mixing textures. Maybe a really cosy velvet sofa, mixed with some marble tables or some fluffy throw cushions. I've learned to mix and match a lot and not be afraid of bold colours, or even deep dark colours, I don't follow too many rules," says Katherine.

It's true, she's certainly not afraid of dark colours. In fact, as we're chatting to her, she's sitting in front of a black wall. A bold statement, but one that totally suits her rebellious vibe.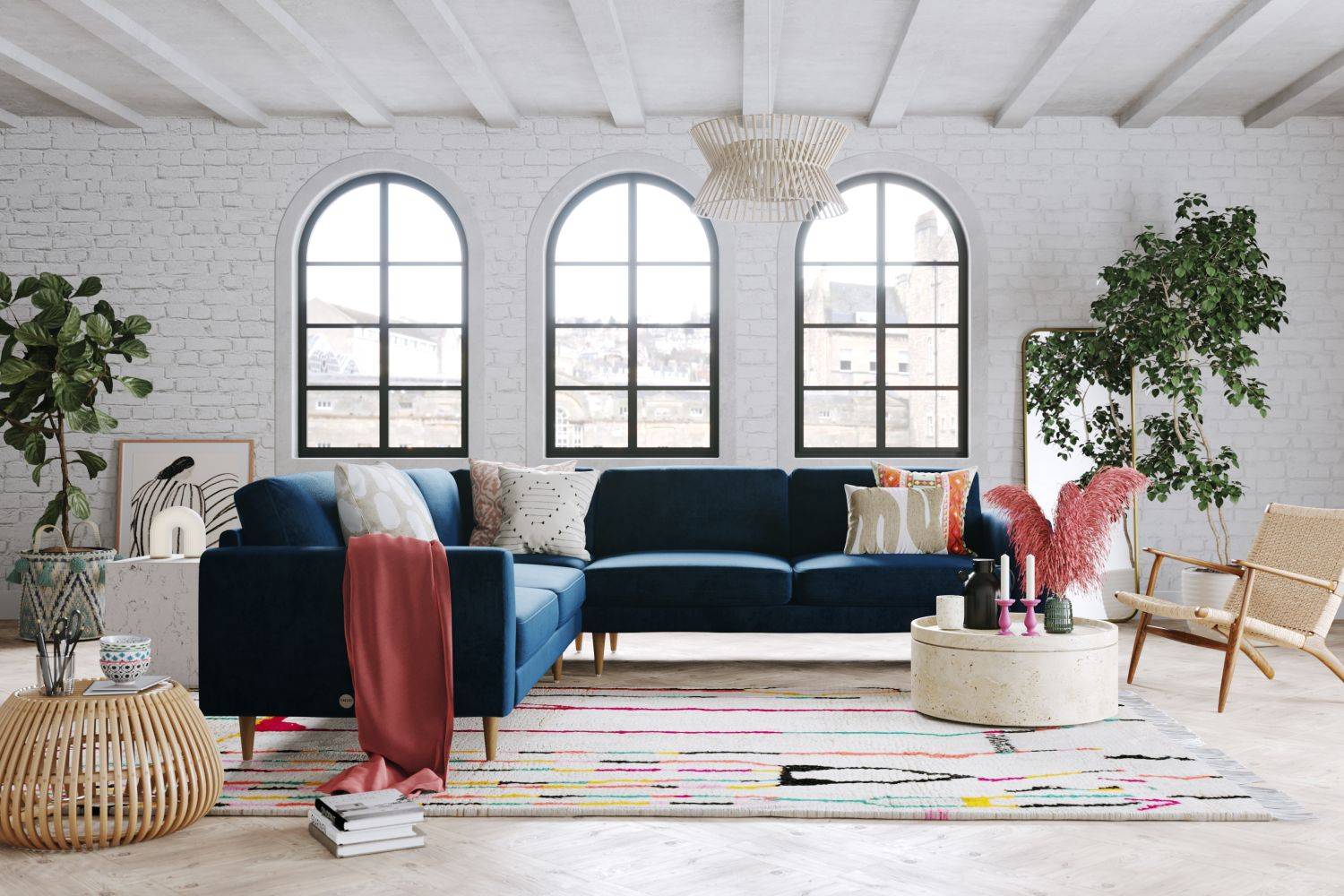 What is the coolest item of decor in your home?
There's many items in Katherine's home that have our heads turning, but when we ask her to show us her coolest… it's a surprise to say the least.
"My mind went straight to the worst one. It's a weird, bald, ceramic head that Jimmy Carr gave me for some reason. It's meant to be really nice, I think it's a designer head. It's Jonathan Adler. Maybe it looks good in his house, but for some reason it just looks like it's somewhere to put my wigs."
What's Jimmy Carr's number? We need to ask him the meaning behind this head. We have so many questions.
Obligatory fun question time. If you had to invite a celebrity to your home (to sit on your Snug sofa) who would it be and what would you ask them?
"Ooo! Betty White is my number one favourite celebrity. I think she might be 99 years old but she looks incredible. I think I would just ask her how she sees the industry changing for women over the next 100 years. She's basically seen a century of Hollywood for women and she was that sexy, pretty young thing who managed to be taken seriously as a comedy actress and I just think it's so amazing."
"Also probably Snoop Dogg… and Kris Jenner, my favourite Kardashian." Fair enough. We think they'd make a pretty great trio too to be honest.
Being a celebrity is hectic. What's your favourite way to unwind after a long day?

"I meditate. I feel like some people meditate in the traditional sense, but my meditation is Reality TV. In fact I've got a pretty wild story.
"Reality TV saved my life."
"When I was on tour I'd get back at like 2 in the morning because I always drive back, I never stay in hotels unless I absolutely have to. Especially when Violet [her daughter] was little because she had to go to school. But we used to live in a church and one night I heard noises and my dogs started freaking out. So I go and look out and there's this man with his hands through the mail slot and he's trying to open the door, like grab the latch to open it.
"I screamed and scared him off but I would not have been awake for that if I hadn't been doing my daily routine of watching Reality TV. Reality TV saved my life."
Well, we better join this life saving meditation. Which reality shows should we start with?

I used to watch Love After Lock Up which is about people who write letters to prisoners and then they fall in love. And it's so gripping because it has everything. It's like high drama, it's layered. I like 90 Day Fiance as well and Keeping Up With The Kardashian's, but I don't watch any Housewives.
*quickly unfollows The Real Housewives Fan Club*
Relationships can be wild! What's one thing you've learnt from married life? And Is Bobby K ever as funny as you?
"Bobby's really funny. He really makes me laugh! I think he's always been funny, we made each other laugh in High School. And he actually valued being funny, a lot of the boys weren't mature enough to value that."
The couple first met as High School sweethearts, but they separated before Katherine moved to London. Almost 2 decades later, the couple reunited and now share 5 month old son Fred, after getting married in 2019. We love a love story!
"I think married life… I think I've learned if you're going to have children, you should have children with your starter partner and then stay with them for about a decade and then divorce them and find true love." Now that is a statement...
"It's because I feel like when you throw kids into the mix, that's when the fighting begins. So, I think, do what Kourtney Kardashian has done. Have your kids with your starter partner, Scott Disick, leave him, marry Travis Barker. Controversial advice, but you won't hear any better advice. But you know what it gets better if you make it through. But a lot of people don't. It's like the Bermuda Triangle of life."
You've just released your new book *excited squeal*, what was the hardest part of the writing process?
"I didn't feel like it was hard, I felt like it was just a different muscle, learning to be earnest. In comedy I'm not earnest, I'm always looking for a punchline or trying to tell a funny story. But there are some stories in the book that don't have punchlines, they're just very sincere. And that was just a different muscle for me to flex."
"I travel with a 5 month old. I have to express milk before I go on stage."
Her new book, The Audacity, is a fiercely honest memoir highlighting all her best tips and tricks for surviving life. And if you haven't read it, what are you waiting for? I mean, the audacity…
Whilst we're talking work, what is your pre-standup show routine? What helps to really get you in the zone?
"I mean, I'm not afforded a zone, I travel with a 5 month old. I have to express milk before I go on stage, that's not really a zone thing. I just drink a load of water because you don't want to stumble over any of your words or get dry mouth or anything.
"Also, I wear the same dress for the same show. Like my last show I had this Gucci blouse that I wore every show and for this I have a Gucci dress that's very like 1920s Glamour. So I guess I glam before I go on stage. And I wear the same thing every night just like a uniform."
Expressing milk, wearing Gucci, right before going on stage to sell out shows, what a woman. We already knew Katherine was a powerhouse, but this just absolutely proves her living legend status.
Imagine - you've been challenged with the hardest Taskmaster group challenge yet - which fellow comedians are you calling in and why?
"I think my favourite comedian might not be the strongest at Taskmaster but it might be funny. I would say Roisin Conaty, but I think she might be dead last. Romesh too. Then, ooh, I don't know, because I loved working with Joe Wilkinson too though. We were teammates on Taskmaster and I thought he was great, we had great energy together. It would have to be those three."
Not going to lie, we're a bit offended that she didn't choose us. I mean we're standing right in front of her, asking questions. But our comedic talent was probably too much competition, we guess.
Thanks for chatting with us Katherine! And a huge thank you for hosting our Instagram Live. Remember, if you missed it, you can watch it here.