Summer seems to have been and gone this year. Its short life span may have had you thinking that your only solution is to transform your home into a dark and botanical haven. Well, you're not alone.
We spoke to an expert about how to pull off the look
Home interior queen, Lily Sawyer from @layered.home, is an interior design genius. Her home is the perfect palette of deep navy blues against pinks and greens. If you give her a stalk, you'll soon be sprinting to the nearest garden centre to stock up on plant children.
We caught up with her to find out how you can accessorise your home too.
What's the first step in designing a room?
"Colour! Deciding on colour can be so tricky. It's important to know what you want and to have a plan," Lily tells us. She also adds that although tips from designers are always helpful, we ultimately have to decide for ourselves what we like and don't like.
You also really need to dig in deep to unleash your inner Picasso (for some of us, he is buried extra deep), as Lily explains that decorating is like composing a piece of art: "Your own home could be a canvas for your creation and imagination, moving accessories and furniture around like they are parts of a painting."
Lily's number one top tip is to not over do it! Although she's a big lover of the bold colours, she suggests that reigning in your colour palette can be really important in preventing chaos or design disasters.
"Complexity does not have to be synonymous with chaos and clutter." Wise words.
What colour should you choose? 
All this talk about colour, but how do you actually know which one to pick? Turns out, you need to look in your wardrobe for a little inspiration.
"I usually go with colours that I love and more specifically colours that I wear. It's a real revelation that your wardrobe colours are closely linked to your interior colours too.
"It's all about what you can live with for a long time and not just live with, ones that you also love long-term."
When designing a room, what is the most important factor?
Lily recommends thinking about how you want this room to make you feel: "There are meanings attached to colours which can affect your emotions and general mental well-being.
"Understanding how these impact your home life can improve your design aesthetics as well as your enjoyment in the home," she explains.
Once you nail down the "feeling", then you can start the process of putting different elements together. She adds that you should allow yourself trial and error in the design process: "That's why I'm a fan of mood-boarding. It helps me visualise how things go together and helps avoid expensive mistakes.
Get inspired with our pinterest moodboards
I don't get much sunlight, is this the right theme for me?
You may be desperate to join the hype of dark navy walls, but you're worried that your already sun deprived room will turn into a black hole. Well, do not fear, Lily's top tip is: "light works with light, dark works with dark".
Lily's own home is actually north-east facing and receives very little sunlight: "When we moved in, there were a lot of magnolia and very light walls. With very little light, bright and light walls just make the space look even duller."
Instead, she decided to embrace the dark and use it to her advantage. "It looks so much better as it doesn't feel dull anymore at all! Dark spaces like corners and walls are now statement nooks rather than dull areas and corners," she tells us.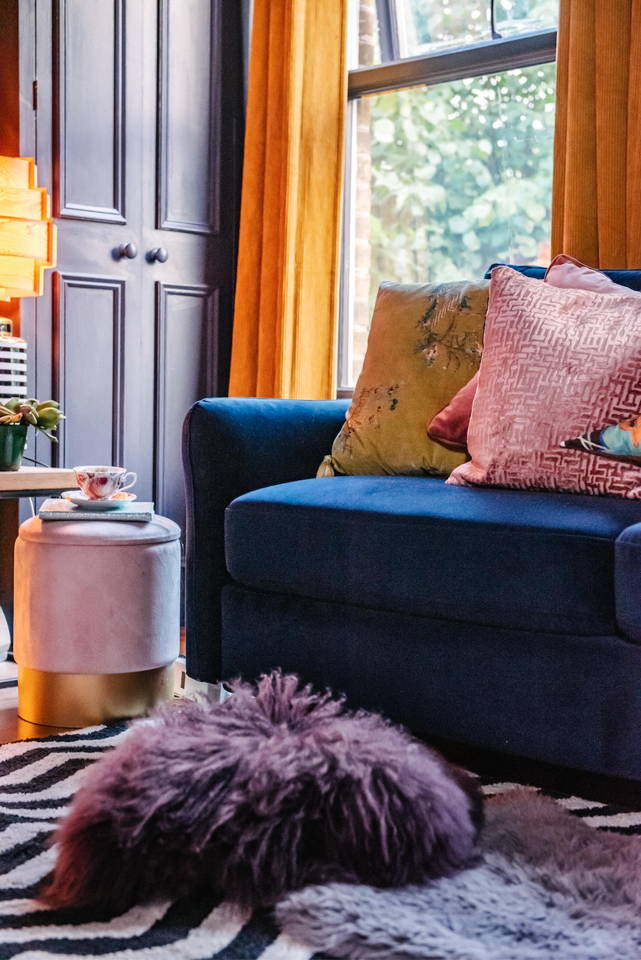 Finally, what's your secret to keeping so many plants alive?
If you've seen Lily's plant collection, it'll have you swooning. But if you're anything like us, your plants die just by looking at them. So we asked Lily for some desperate tips and tricks.
"The secret is a bit of a cheat! I mix faux and real together because I'm not actually that green-fingered," she revealed. We're shocked!
"Faux plants look real enough when surrounded by real ones, and they can help bulk up a collection." There you have it, all her secrets laid bare.