Yellow; it's the colour associated with happiness, the sun, optimism and energy. So it's hard to imagine why you wouldn't want a dash of yellow in your life, and perhaps we're biased, but when we say 'dash', we mean a Turmeric Velvet Sofa.
You heard us right! If you haven't already heard, our gorgeous yellow sofas are making a come-back and will be available across The Rebel and The Big Chill collections.
And if you're looking for ideas and inspiration for your new mustard sofa, you've come to the right place. The sofas evoke playfulness in otherwise neutral rooms, adding extra warmth and character to any living space.
But how can we style it, and what colours work best with a yellow sofa? Well, get your popcorn ready because we're about to tell you how to best style your Turmeric sofa.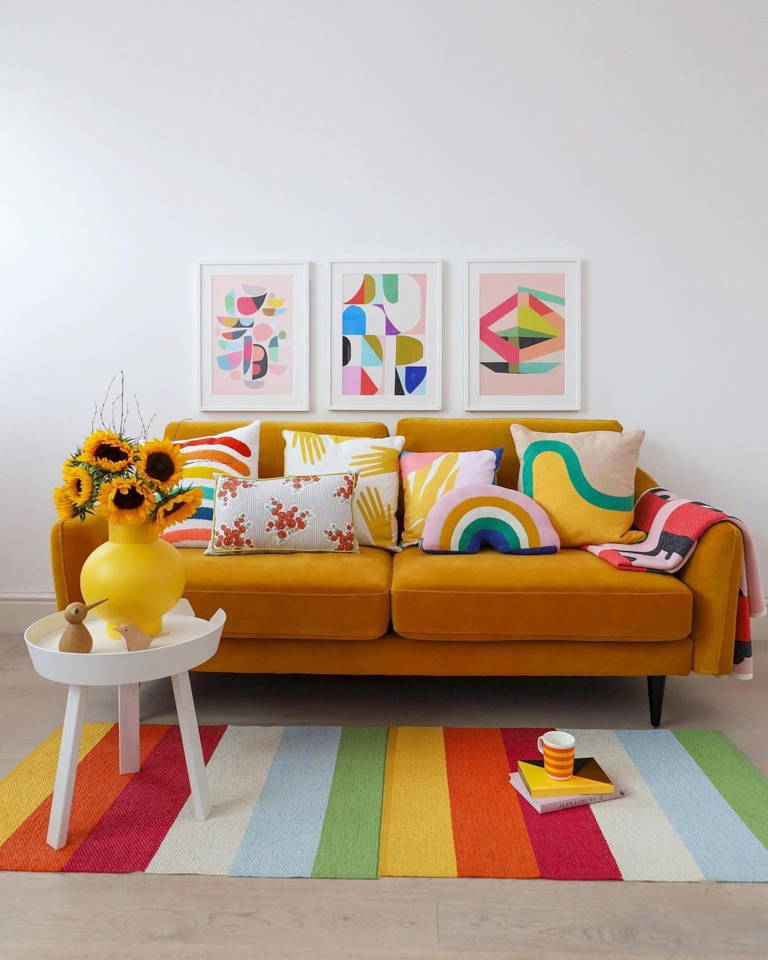 It's all about accessories!
Use pictures, prints and patterns but remember - it's all about balance. Use a mixture of different sized cushions for that extra cosy, comfy feeling.
We love bold colours, neutral colours, dark colours; you name it. Think about your personal style and what matches your vibe.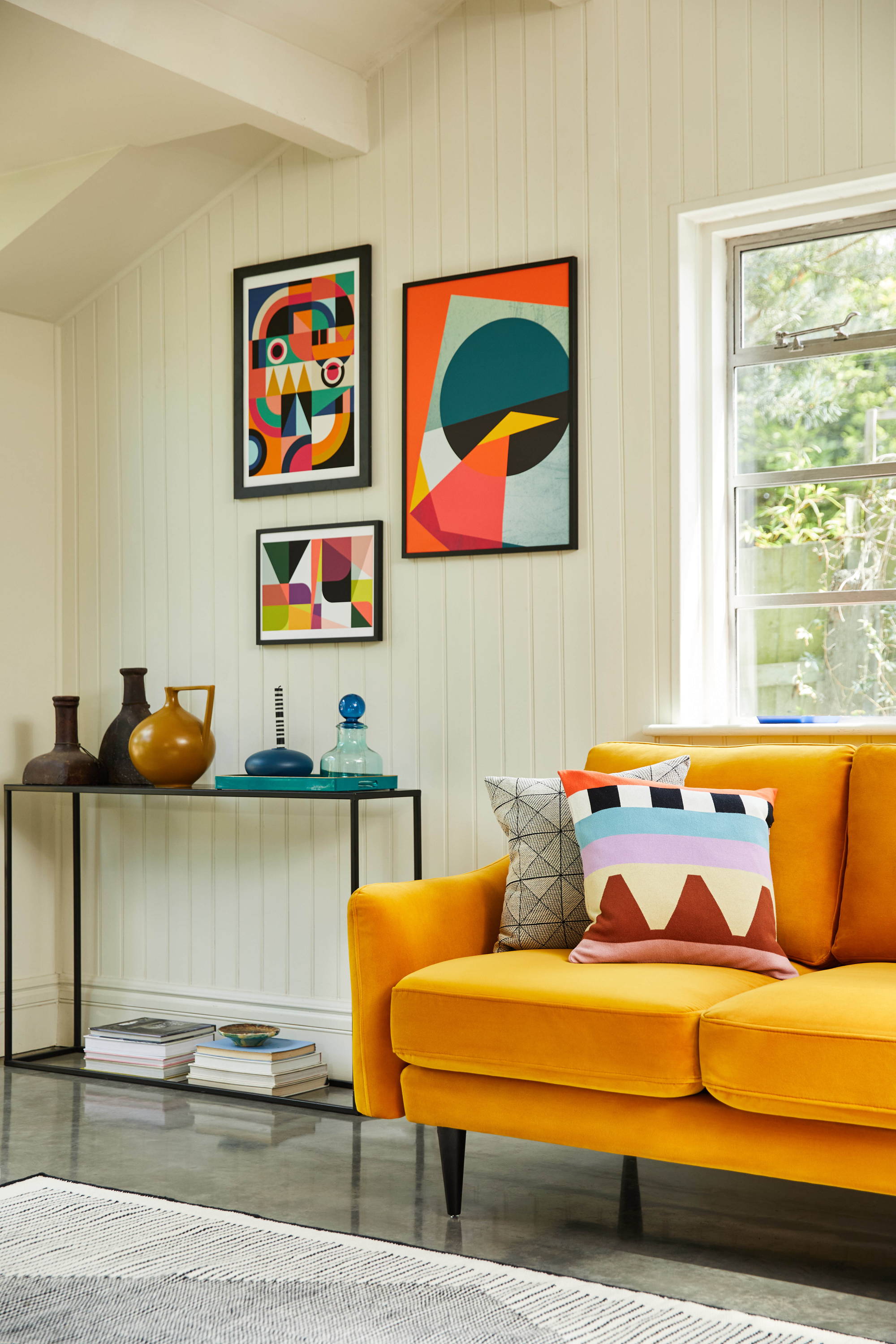 Which colours go best with a yellow sofa?
Wondering which colour walls and scatter cushions will complement your yellow sofa?
You can use your Turmeric Velvet Sofa in combination with an equally eye-catching colours, so no one shade stands out alone, making it a harmonious blend of bright and bold.
Equally, you could let the Turmeric couch do all the talking by keeping its surroundings calm and neutral. The floor is yours with this one.
We love a bit of contrast and pop. Dark coloured cushions such as dark grey, black and navy will work a treat. Or if bold and colourful is more your vibe, cushions like red, pink and blue will make the Turmeric sing. And then for you neutral lovers, go for cream and grey to complement the yellow. We've got the colour options to suit every style in our oh-so-squishy scatter cushions, find yours today.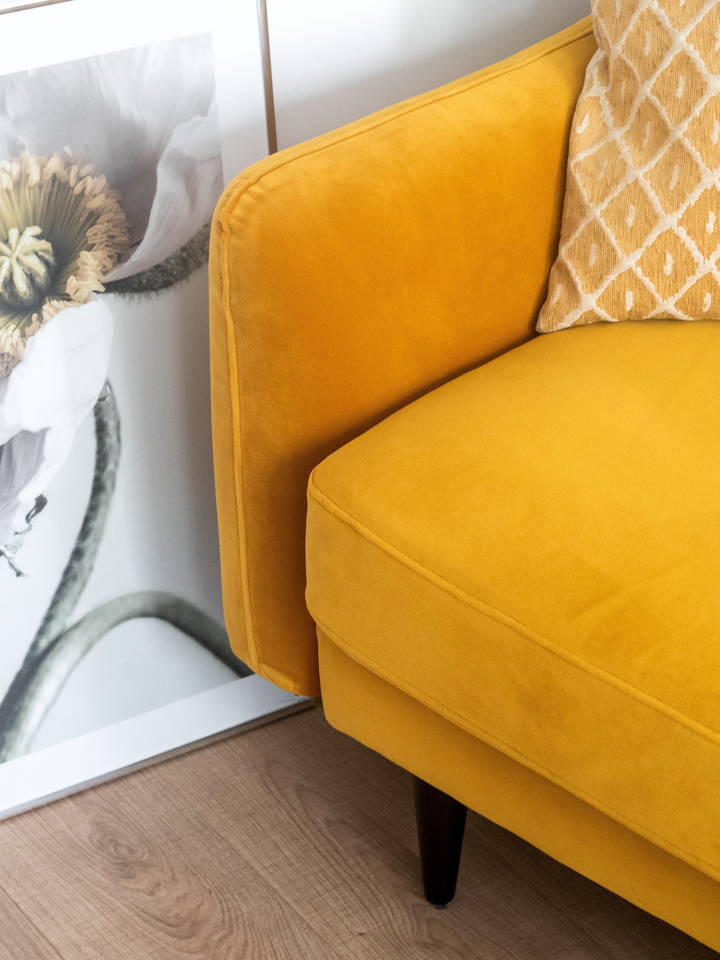 Or you could accent your Turmeric with… more Turmeric! Adding similarly coloured accessories, like vases, cushions and throws, will complement each other and stand out individually. It's a subtle but effective way to decorate your mustard yellow sofa. Mix velvet and other fabric cushions for a more tactile finish. Trust us; you can never have too much Turmeric.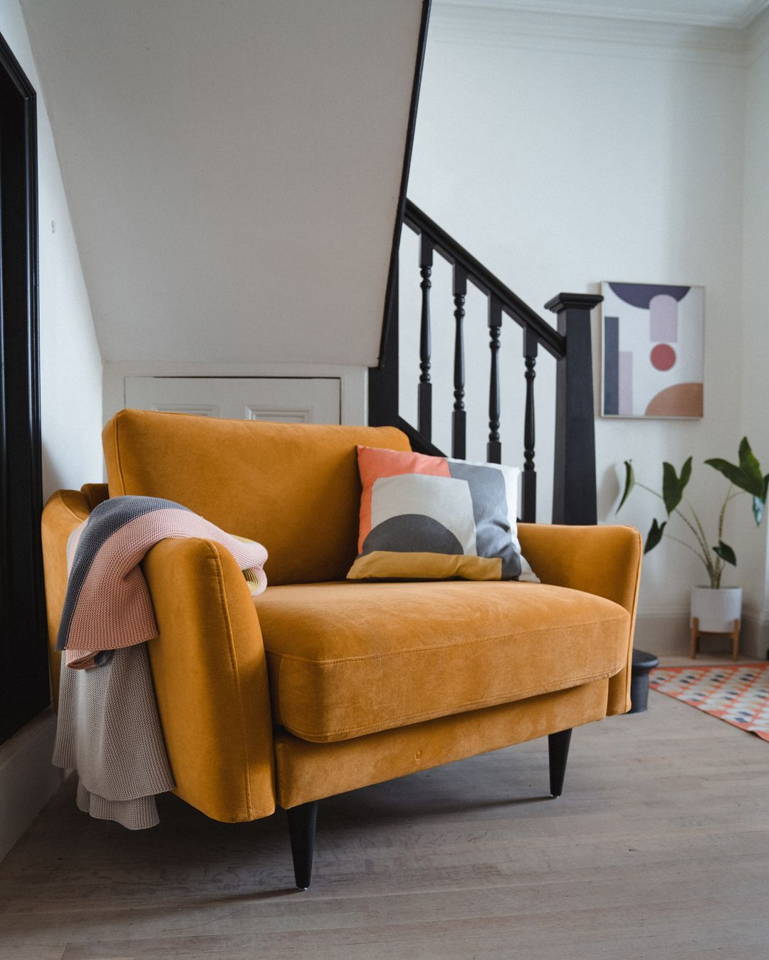 Our Saffron Velvet Accent Chairs make for the ultimate armchair. Instantly lifting the mood in any room, double-up for that symmetrical look or mix and match for a less uniform aesthetic.
Whether you use them for decor, extra seating or your go-to snuggle spot, we don't think you can go far wrong with a mustard yellow armchair. Style it with the usual popping accessories like throws and cushions, and if you want to show people that it's your spot, leave your mark... perhaps your favourite book that has a gorgeous cover or a stack of magazines.
Out with the ordinary, in with the extravagant. But, most importantly: have fun with it! Let your living room echo your personality, whether it's loud and out there or more reserved and neutral. Enjoy your space! Find out more about how to style a colourful home with our guide.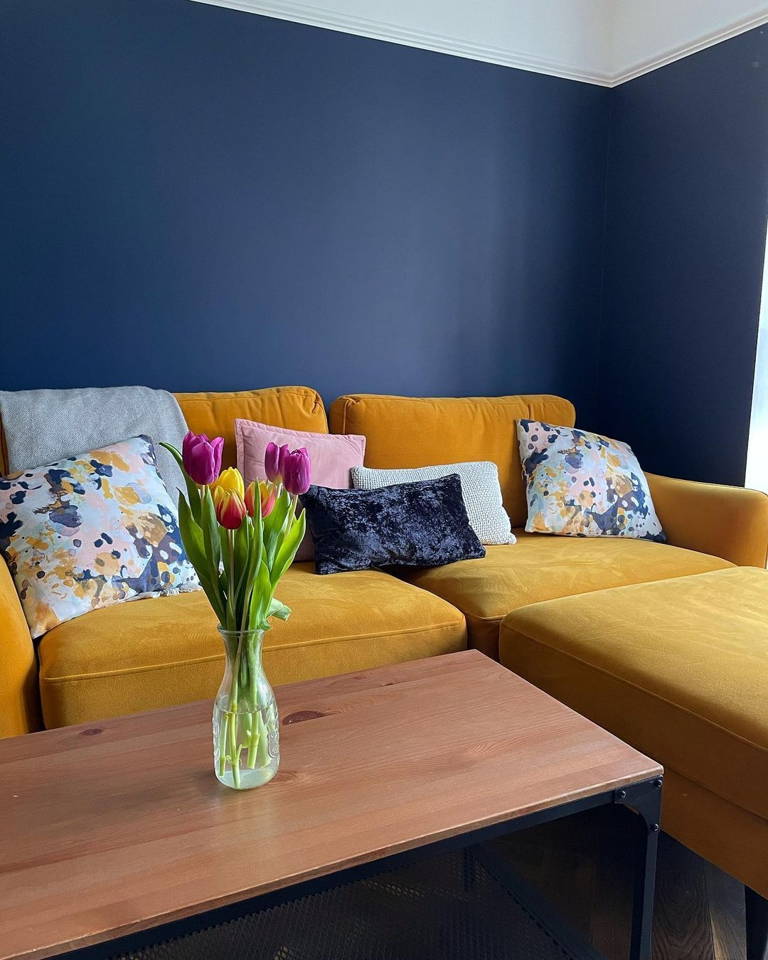 Let the walls do the talking…
Wondering which wall colour might complement your yellow sofa? Well, you can never go wrong with neutral, cream walls or subtle grey tones.
Or, for a more dramatic effect, go for a Navy paint job! As you can see below, it's a real winner - blue and yellow go together like tea and biscuits.
Now, styling your mustard velvet sofa is one thing... but you should also understand how to keep it clean and fresh, so your Turmeric sofa can glow for longer.
Snug Velvet is made with spill-resistant polyester, making it durable and easy to care for. With any spill, you can wipe them off with ease. Find out more about how to care for your fabric with our care guide.