Now here at Snug we're not one to blow our own trumpet, but in this case we TOTALLY are. Because our comfiest sofa (and possibly in the world) has launched - The Cloud Sundae! Offering a new realm of cosy, it's a sofa collection for pure escapism in 2021. As part of the campaign, we teamed up with Influencers Robyn Poppy and Max Selwood, who starred in our fab lifestyle shoot. The dream couple have answered all our nitty gritty questions (because we're nosey like that), alongside their stories from the photoshoot and what interior vibes they go for. Happy reading!
Let's kickstart with a fun introduction about yourself - surprising facts please!
Robyn: Hey, I'm Robyn. This is a hard one! I actually broke my back a few years back and still get bad back aches now (why having a comfy sofa is super important). I ended up going to an interview wearing the back brace and even went on a night out wearing it!

Max: 'Ello I'm Max, I'm 24 (yes Robyn is a cougar) I've lived in London for the past 4 years but I actually grew up in the south west of France!
How did you begin blogging, and what's your interpretation of being an Influencer?
Robyn: I began blogging over 3 years ago in my final year of uni. My dissertation was focused on 'how to have a sustainable career in fashion blogging' so as part of it I set up my own blog and started posting on Instagram and used that towards my primary research. It was all a bit of a social experiment initially. It was all going pretty well so after uni I carried it on and here we are!
I think influencer is a tricky word as we're technically all influencers, we influence our friends/family/work colleagues etc. I guess the only difference is a social media 'influencer' has a larger platform to spread their voice/interests.

Max: Well this is a weird one for me because I wouldn't really say I blog... but I guess I kind of do haha! I started posting on social media around 3 years ago spreading mental health awareness. I love being able to spread a positive message. We all know social media can be a toxic place.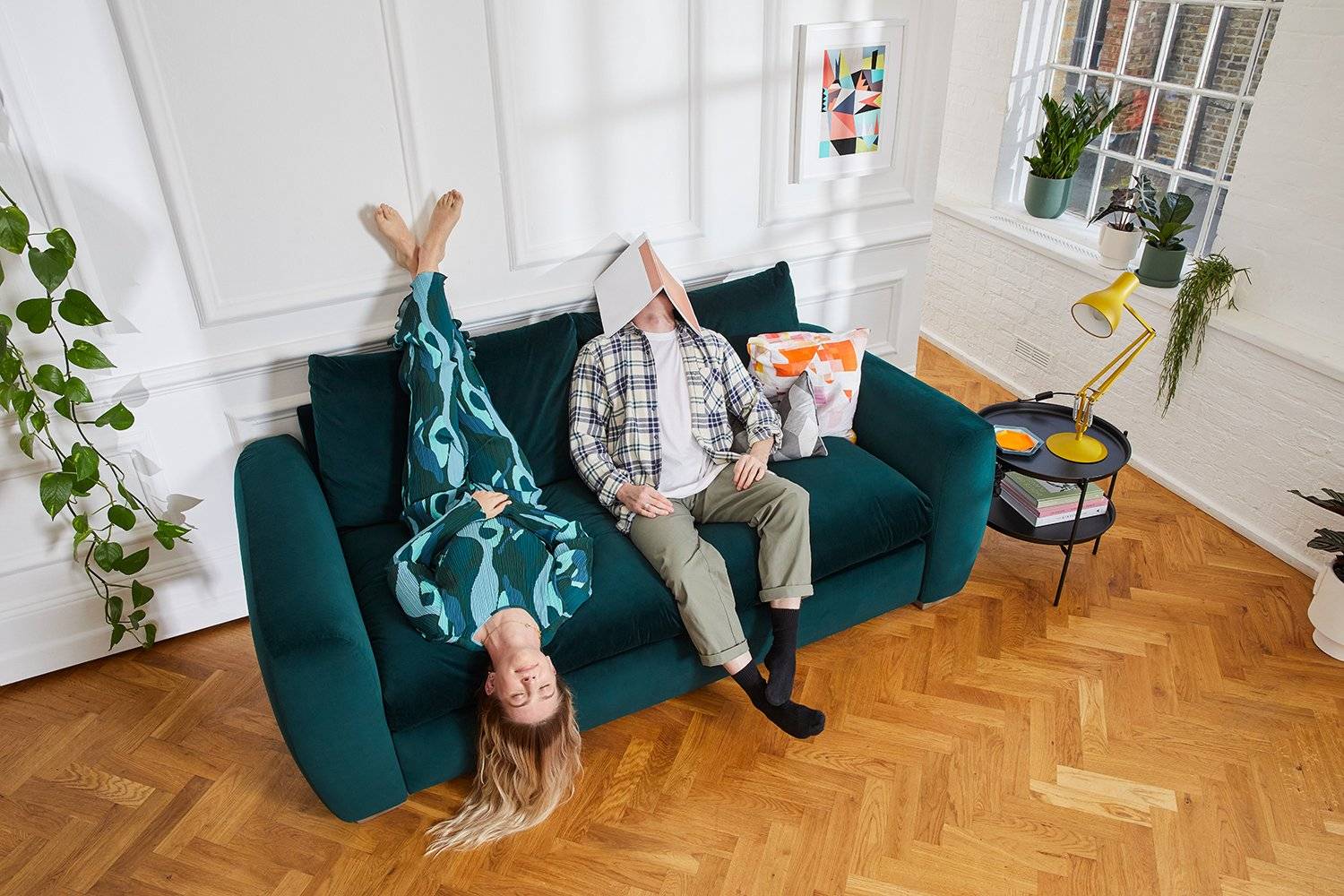 Valentine's Day is just around the corner, and you two are quite the iconic couple. If money and logic was no option, what would be the ULTIMATE date night you'd treat the other half with?
Robyn: Well first up, thank youu!! I think if there were no restrictions I'd love to just hop on the Eurostar (or I guess a private jet if money isn't an object) and go to Paris for an overnight trip in a fancy hotel. In 2019 I went 4 times (once was only for 1 day) so I'm getting withdrawal symptoms now. I love it there!

Max: Damn I love this question - If money or logic was not an option... I'd book Robyn a day off work (without her knowing of course) and then surprise her with a private jet so we could have a romantic meal next to Lake Como in Italy. All the pizza and pasta we can eat! We'd then roll back in to the jet and fly home to cuddle up on a Snug sofa of course.
How have you stayed creative during lockdown?
Robyn: I've got a lot more creative with shooting at home! Whether that's been with the iconic white sheet backdrop or making the most of different locations in the house, it's been a fun challenge. I've also done a few facetime photoshoots which I really enjoyed! I also bit the bullet and joined TikTok, it's quite an addictive app and a really fun one to create content for!

Max: During the first lockdown, I created a series called "Isolation". It was 17 episodes where I discussed my mental state and other mental health related topics. I did this weekly on the Sunday. I'd start the day with no idea of what I was going to say, to posting a full video at 7pm. It was a great challenge! I've also used a lot of my time to make TikToks where I was able to get really creative.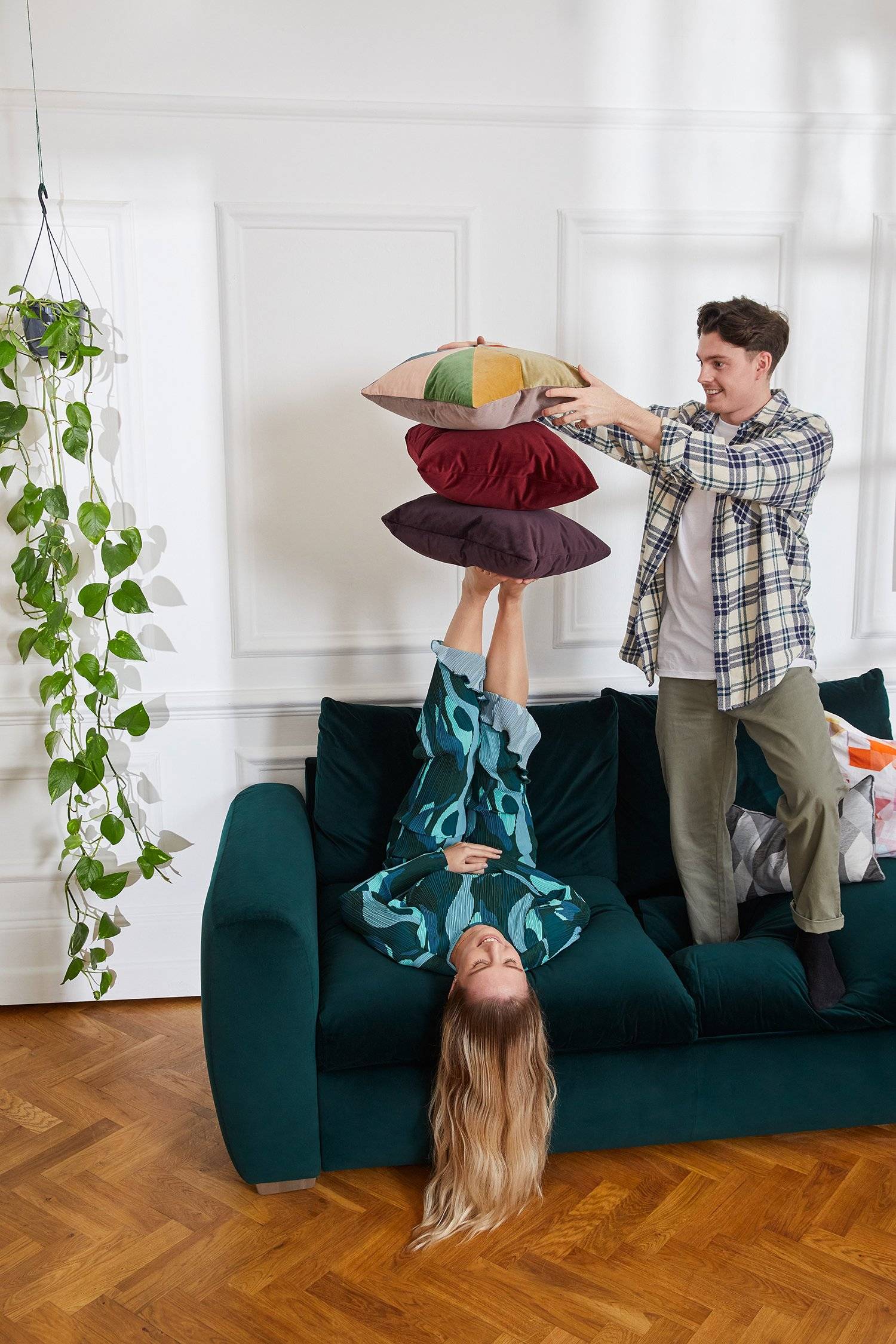 We're over the MOON to have you in our new campaign; what did you love about the shoot day, tell us some tales from it!
Robyn: It was such a fun shoot, I think we can both agree we had a great day! I especially loved having to balance about 4 different cushions on my feet whilst upside down on the sofa and recreating Victoria Beckham's iconic leg-up-in-the-air pose. That gymnastics training from when I was younger came in handy!

Max: I loved the shoot! It was such a fun day.
Our campaign is all about new realms of comfy and escapism; what are you dreaming of achieving in 2021?
Robyn: I never like to focus too much on goals so I tend to keep them vague but I think the biggest thing I'd like to achieve in 2021 is to learn how to relax. I feel like I'm always going at 1000 miles per hour and really struggle to slow down and not feel guilty for doing so. I really want to try and take up some hobbies which don't involve my phone to reduce screen time.

Max: This year isn't going to be the most simple year for obvious reasons so just keeping a level head and making sure I'm taking the right steps to be happy is what I want to achieve!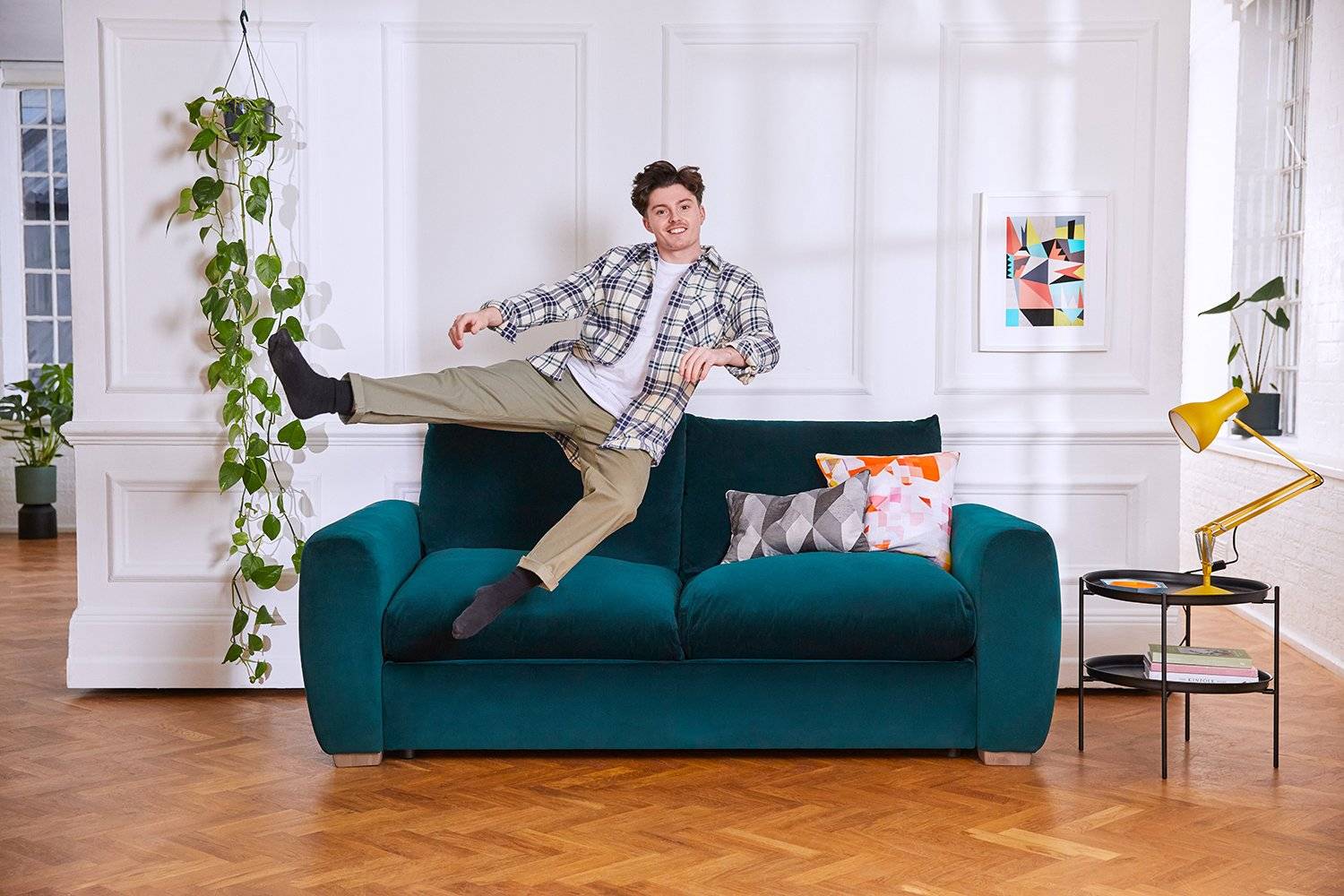 We're a sofa brand, so it's time to talk interiors! What's your home style like?
Robyn: An eclectic mix! I find it really hard to describe but I'd probably say it's a mix of Scandinavian and boho influences. I'm also enjoying adding pops of colour to my room at the moment through the use of wall art, plant pots and cushions.

Max: I would say my ideal home would be quite an industrial vibe. Exposed brick and pipes but keeping it quite minimal. I love a monochrome colour palette!
Top tips for creating a cool living room space?
Robyn: Plants (lots of plants), coffee table books and wall art! I'd say accessorising is key as well, you can never have enough cushions, throws and ornaments right?

Max: For me, I would say don't over complicate it. Don't try to fit too much in one space! I truly believe a clean and organised and open space really helps your mindset. (Not really sure looking at both our answers how it's going to be when we both live together haha!)
Finally, what are you watching on the box from the comfort of your sofa at the moment?
Robyn: I recently watched Bridgerton and was obsessed with it! I've also been watching Next in Fashion which I'm really enjoying. I wish I had the talent to be a designer, I'm in awe of how quickly they design and create the outfits!

Max: I've been watching The Crown recently - It's not something I would usually watch but I'm totally addicted! I've also started to watch Breaking Bad because I never really gave it a go.