Since the dawn of time, mankind has maintained an instinctive desire to sit down on good quality, comfortable furniture. We've come a long way, too, from the rocky chaise longues and tree stump bar stools of our forefathers.
But, some people are still stuck at a stumbling block - stuck with the tricky job of getting sofas through gaps and doorways. Ready-built sofas can be a real pain and can make the whole process of buying a new piece for your house a stressful one.
Here at Snug, we passionately believe that buying a new sofa should be a pleasurable ordeal. It should be easy, fun, a real excitement-in-a-box moment. In this busy, modern age, a self-assembly sofa or, even better, a sofa in a box (you know, the quality sofas that are delivered in days and can be assembled in minutes - no tools required) can transform your day, week, or life.
'But what will become of the unfortunate folk who've just purchased a ready built sofa?' we hear you cry. 'Is it the end for them?'
Well, they'll find a way forward, but, let's face it, their journey to ultimate comfort just isn't going to be as smooth as for those who have themselves a Snug sofa. Let's take a look at why...
For Normal Sofa Folk:
So, here's the deal; your brand new sofa has just been delivered, and it's sitting outside of your home just waiting for you to get it inside. Only it's not just sitting; it's taunting you in all its cumbersome glory. At this point, the temptation is to kick back on the front doorstep or in the street and tell your mates that an outdoor sofa is a must-have accessory for modern life. But you know that's not an option, so you're going to need some serious willpower and strength to get it inside.
For Snug Sofa Folk:
There isn't any preparation needed. Oh, apart from making sure you've spent time choosing your dream colour and style (take a look at our swatches!).
Now, your sofas are simply sat on your doorstep in a few small boxes, ready and waiting to be smoothly carried to position.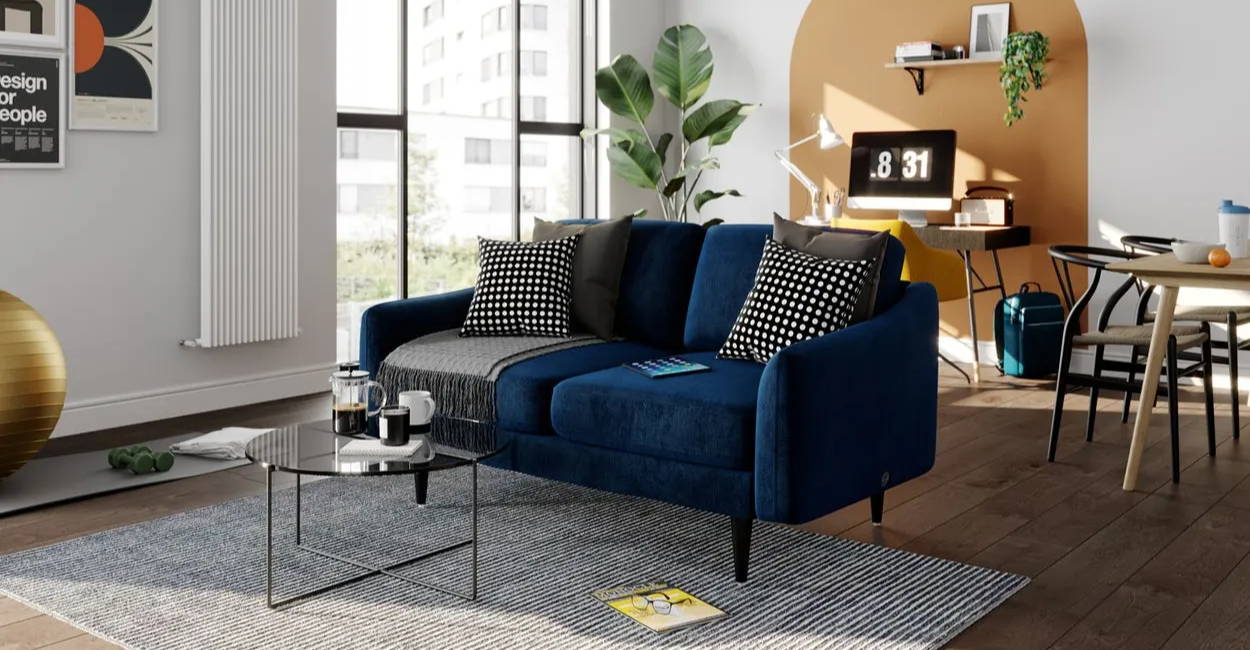 Step 2: Prepare Your Sofa
For Normal Sofa Folk:
Measure your sofa and get ready to 'PIVOT' it up the stairs and through doors. Take off all the cushions, covers and protective polythene and get them inside and out of the way. Trust us, you want to prepare for the worst. So many non-refundable 'normal' sofas get left outside on moving day because they won't fit into the house.
Need a beer already? We thought you might...
Read More: Moving On Up - How to Move House Without a Hitch
For Snug Sofa Folk:
Don't worry, nothing to see here! Your Snug sofa parts are still sat ready and waiting.
Step 3: Grab a Sofa End Each
For Normal Sofa Folk:
You're going to have to phone a friend and ask them to give you a hand wobbling the sofa inside. Now, it's a little known aspect of furniture moving etiquette that the person whose house it is grabs the front of the item and moves backwards. This indicates a willingness to crush one's own fingers first and is supposed to instil a sense of dedication and self-sacrifice in the moving partner.
For Snug Sofa Folk:
It's highly possible to manage the process of getting your sofa in on your own, especially as they come in multiple small boxes. Can't quite lift the box alone? Don't worry - you can take each part out and carry them separately. You can even find box specifications for each collection here.
Step 4: Fitting Your Sofa Through the Door
For Normal Sofa Folk:
Your first challenge. Front doors are notoriously door shaped, and sofas are, well, not. You'll want to make sure that your fingers are all tucked completely under the base of the sofa. You can now proceed to try to walk the sofa in.
Read More: What actually are Modular Sofas?
Bear in mind that carrying it in square, that is, how you picked it up, will not work. You're going to have to do some weird twists and stretch into unnatural positions. Generally speaking, the more awkward, uncomfortable and unnatural your body position, the more likely you are to get it through.
For Snug Sofa Folk:
Just walk on by.
Step 5: Carrying Your Sofa Up Stairs
For Normal Sofa Folk:
If your sofa is going to be situated upstairs, you will now be faced with your biggest challenge yet. Depending on how steep and long your stairs are, and whether it dog legs or not, will affect how well this next stage goes. You will tend to find that regardless of how straight forward your staircase seems, this will not be a lot of fun. This very problem was immortalised by Ross in the famous Friends episode.
For Snug Sofa Folk:
It's just a staircase to heaven. Breeze on up, and your spot to chill will be assembled at the top in no time.
For Normal Sofa Folk:
You just can't do it. You're going to have to pick up the phone, admit defeat and hope for a refund on your too-large sofa... or you could get it airlifted, we suppose.
Once you've had time to recoup, it might be time to think about ordering Britain's first sofa in a box - yup, you've got it, a Snug sofa is the answer here.
Jokes aside, if the thought of fighting a sofa into your house fills you with dread, we feel you. It's why we wanted to create something that can be assembled single-handedly, without any tools, transported alone and be ready and raring to go within minutes of arriving on a doorstep. That's not even mentioning how many colour and style options we've got, and to make it an even smoother ride, you can test drive and return within 100 days if it doesn't quite meet your standard, too.
Why not book a consultation and have a chat through your options? Oh, and did we mention that your Snug sofa can grow with you? That's right, they are modular too, which means you can transform a 3 seater into a corner sofa. So, that sofa you've been dreaming of really is just a couple of clicks away...