Small doors and tight hallways are no match for Snug. Our self-assembly sofa in a box can seamlessly fit through any sized entryway. Whether you live in The Smallest House in Great Britain, or a tiny canal boat, you can still have the sofa of your dreams.
Join us as we list out the most awkward spaces a Snug sofa has fit into. Our Snuggers live in pretty cool spaces, so we wanted to share some of our favourites.
Liz and Laura's Canal Boat
Liz and Laura thought there was no chance that a sofa would ever fit into their canal boat, but now they're sitting pretty. Our Grey Big Chill 3 Seater not only fits in with ease, but also looks perfect on board! Even their dog Lowen is a fan. We're fans of you too, Lowen.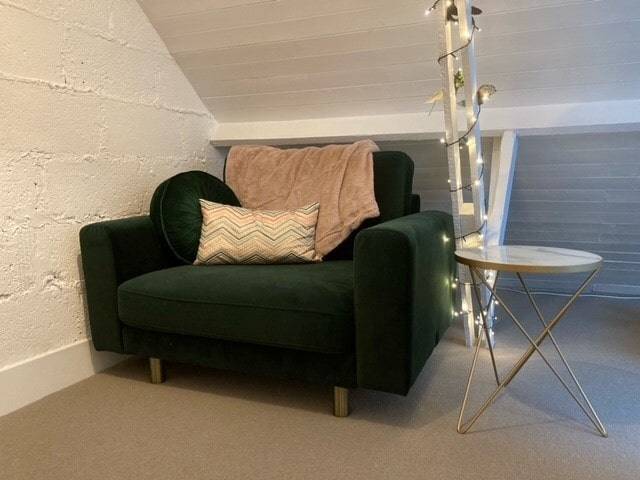 Helen's family had recently converted their loft into a cinema room, but they were still using the original loft hatch as an entry point. After searching for chairs that would fit up the tiny gap, they found Snug - The Sofa in a Box Company. So, yeah, you know the rest…
Their loft is now home to a lovely Green Big Chill Snuggler. It fit through with the ease we have all come to expect.  
"The service and quality of the product is excellent and we would recommend it to anyone who is having trouble finding furniture to fit through awkward spaces," she told us. That's what we like to hear.
We asked Ellie why she chose a Snug: "Well other than the fact it's gorgeous, we bought a Snug because it was smart."
Ellie was looking for something that was delivered in parts and could be assembled easily, providing a no-hassle solution to the difficult angles of her staircase. She also loves that the modular capabilities of Snug sofas give her the freedom to switch up her design in the future.
It seems quite a few of our Snuggers enjoy life on the water.
Daniel's narrowboat had an entrance too small for a traditional sofa. A sofa in a box was the answer to all their problems.
"We tried a competitor before buying the Snug and the difference in quality and comfort is massive! When we tried the Snug after, we realised there was no competition."