The Small Biggie brings you big comfort in small spaces, without the compromise. Designed to seamlessly fit into every awkward corner and weird alcove for the most notorious lounging experience, these sofas are guaranteed to fit into any home, even canal boats and The Smallest House in Great Britain!
Designed with slim arms and turned hardwood feet, The Small Biggie has a smaller footprint than any of our other collections making it perfect for squeezing through tight hallways and windy staircases.

The Small Biggie shares the same base as The Cloud Sundae. The difference can be seen in the sofa arms and, if you fancy getting your design hat on, you can swap the arms easily across the designs. With the plush plump cushions and big billowy backs, you can recline in pure bliss with this collection. Although size matters, there's no need to compromise on comfort.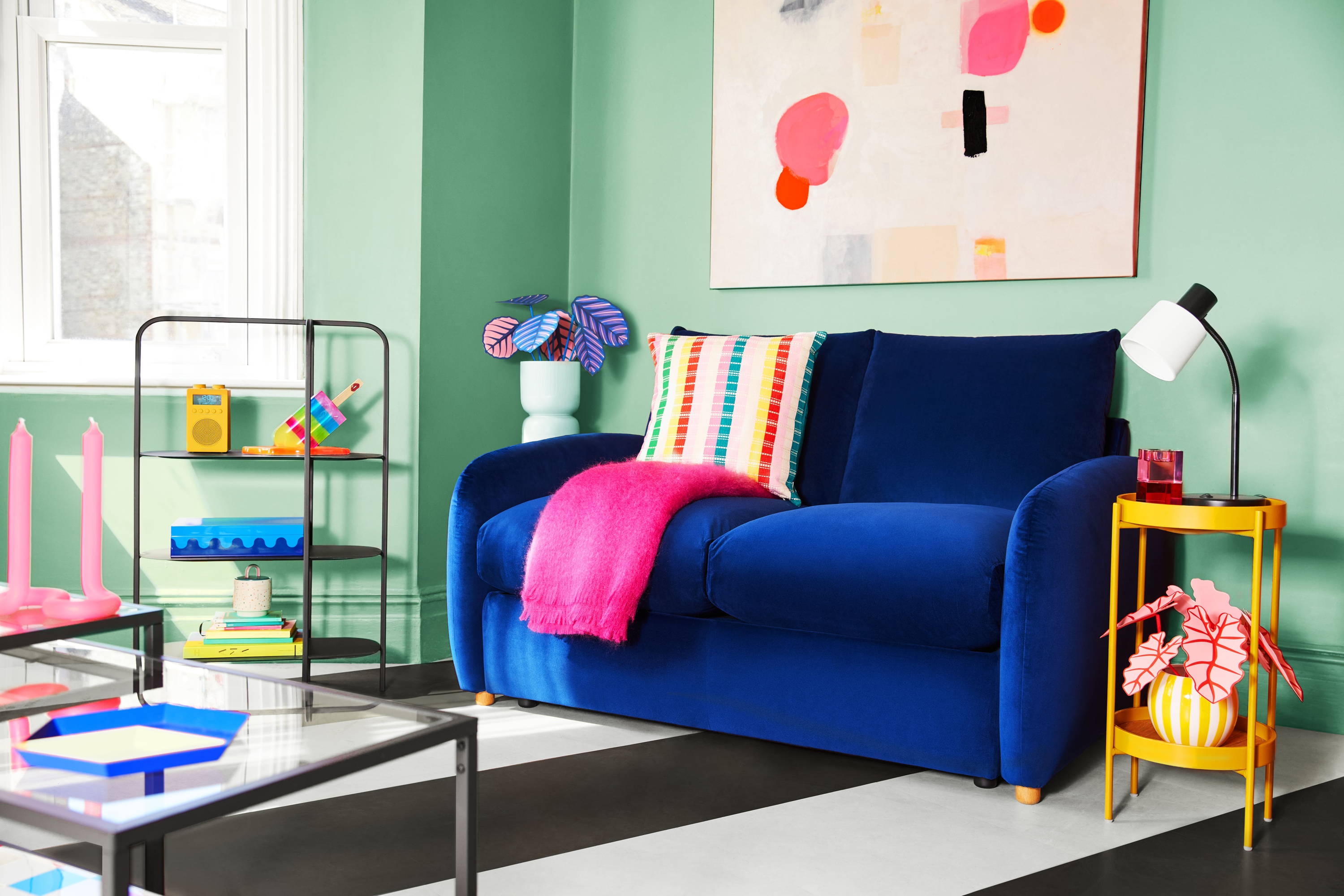 Are The Small Biggie sofas modular?
Yes! Just like our Cloud Sundae collection, The Small Biggie is fully modular allowing you to truly create the sofa of your dreams in any size and shape. With our easy thumb-lock slotting system you can join pieces together to transform a 2 seater into a large U shape corner sofa.

There are all kinds of modular sofas; sofa beds, day beds, footstools and even optional storage for hiding all your secret snacks. The sky's the limit with this collection. Find out more about our modular sofas here.
Can The Small Biggie really fit into any tight space?
Of course! Do you think we'd make it up? We've designed The Small Biggie to solve problems the traditional sofa market can't. Whilst the slim armed design helps to make The Small Biggie pride of place in your weird alcove, it also arrives in boxes. These boxes are built to fit through even the tightest of front doors and can be easily manoeuvred around the windiest of staircases.
Even the large corner sofa arrives in parts that will fit into your home. You can self assemble these sofas in minutes, and there's no tools required!
What colours does it come in?
Ooo now we're talking. The Small Biggie comes in four different colours in our Snug Velvet fabric. Pick the perfect colour to match your vibe with Midnight Blue, Pine Green, Soft Teal and Warm Grey.
You don't have to worry about damaging your new beautiful fabric. We've designed The Small Biggie to be ready for whatever life has to throw at it (literally). All our fabric is spill resistant, durable, and pet friendly. Enjoy a family takeaway, or a cuddle with the pooch all from the comfort of your Small Biggie. For more information about looking after your Snug, read our care guide here. 
Sofas lovingly made in the UK
The Small Biggie is crafted in the UK and uses ethically sourced fabrics for a more sustainable production line with a lower carbon footprint.
You can enjoy your Snug for years to come with our 15 year frame guarantee. Think of all the Netflix and chill sessions you'll fit into that!
Our unbelievably soft, marshmallowy cushions are completely vegan friendly and built with the plushest foam to sink into.